These are the 42 artists that performed during Logan Live 2019.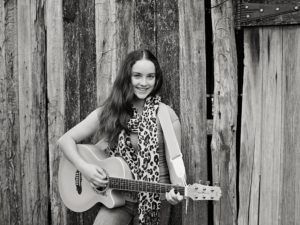 Angie Grace
Folk, Acoustic, Instrumental
Angie Grace is Logan singer/songwriter with a unique voice and a passion for music. Angie was born with a song in her heart and has established a reputation as an accomplished young performer, having entertained at a number of charity events as well as performing at local cafes and community events.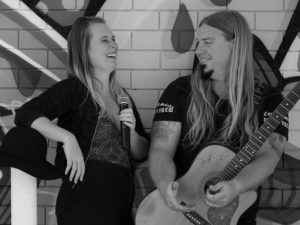 Bam Duo
Folk, Acoustic, Pop, Contemporary
BAM Duo is an exciting female-fronted duo bringing one of the best and most sought after live music experiences to every show that they perform across Brisbane, Gold and Sunshine Coasts. From high energy, classic sing-a-longs to modern day hits, BAM Duo boasts a complete sound consisting of two-part harmonies, guitar, and underfoot percussion.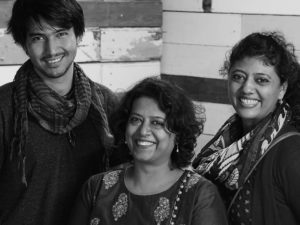 Bollywood Revivers are trained musicians from South Asia who share the passion of singing sensational Bollywood music. The group comprises of members with different styles and backgrounds, and together they recreate popular Bollywood numbers with a twist.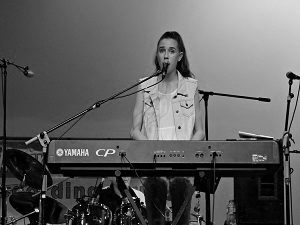 Briana is a multi-award winning country music artist singing both country and popular music, accompanying herself on guitar and keyboard. Briana was recently crowned National Junior Songwriter of the Year at the 2019 Tamworth Country Music Festival by Capital Country Music Association; winner of the Open Age Songwriter's Award and the Junior Performer of the Year Award at the Neil's Parts Australia Country Music Rush in March 2019; and Junior Performer of the Year at the 2018 Bundaberg Country Music Festival.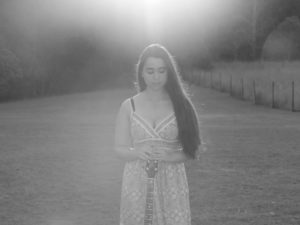 Caitlin Jade Apro
Folk, Acoustic, Rock, Pop, Contemporary
Caitlin was an artist with Logan Live in 2018, and has played at various venues including Nightquarter. Caitlin's repertoire includes everything from The Beatles to Billie Eilish and everything in between, offering a fresh and different style in her performances.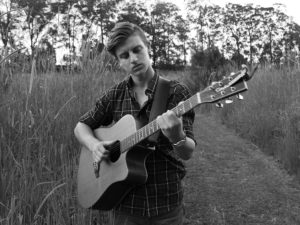 Caleb Caswell
Folk, Acoustic, Pop, Country
18 year old singer-songwriter Caleb Caswell first started performing at the age of 12 and has been gigging ever since. He has a chilled acoustic style playing a blend of pop, folk and country, which includes both covers and originals. His smooth vocals are supported by his trusty guitar and loop pedal. Some of his biggest musical influences include John Mayer, Ed Sheeran and John Denver.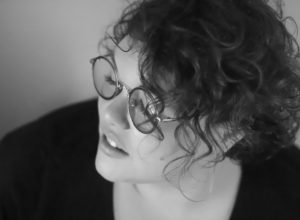 Carla Thursday
Folk, Acoustic, Electronic, Pop
Carla Thursday is a multi-instrumentalist who pairs her distinctive Australian lisp with joyous, piano-based alt-pop that she produces in her living room. Touching on themes from childhood and dreams, Carla's lyrics toy with the mystical and the deeply real.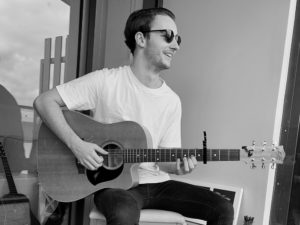 Blending versatile guitar playing with a strong vocal range, Chris Connelly is a dynamic multi-instrumentalist from Brisbane, Australia. Receiving his first guitar at just 2 years old, Chris became enamoured with the instrument, constantly honing his skills in a variety of styles, and now performing regularly at wine bars, pubs and theatres.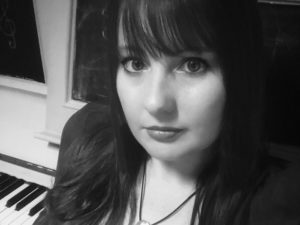 Danni Jay
Folk, Acoustic, Pop, Country
A Logan Live artist in 2018, Danni Jay's music is best described as Contemporary Country with rock influences. She has been a Charters Towers Country Music Festival finalist and a finalist in the Country Music Showdown. Her original music has received worldwide radio play through My Country Australia. Danni Jay has performed at The Zoo, The Foundry, The Old Museum, and for SIDS & Kids and Starlight Children's Foundation.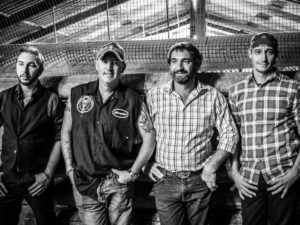 Forever Road are a high energy four-piece rock/country rock band hailing from Logan. Offering punching originals and everyone's favourite covers with fantastic crowd interaction, Forever Road have played shows all over Australia at some of its major festivals including Gympie Muster, Oz Music Week (Sydney), Tamworth, and Scorcherfest.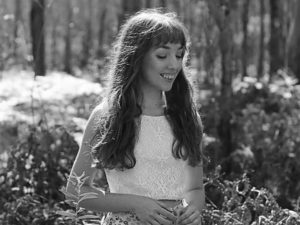 Georgie Taylor
Folk, Acoustic, Contemporary
Georgie Taylor, 17, is a Queensland singer-songwriter and multi-instrumentalist whose masterful lyrics take the listener on a journey of the heart. Writing a mix of indie/pop/country/folk inspired music, Georgie plays guitar, ukulele, piano and mandolin, and performs regularly in QLD and NSW. After creating waves with her debut single 'Insane', Georgie has recently released 'The Deep' – a 7 track EP of all original songs.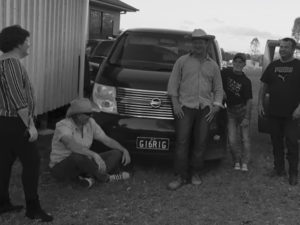 Griffin County are edgy, energetic and entertaining. Whether they are cruising with a soulful ballad or belting out the latest country rock song, Griffin County have audiences singing right along with them.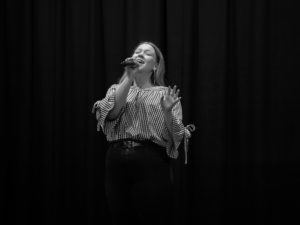 Hayley Vernon is a Logan-based performer who sings many styles including jazz, pop and classic hits. Fully equipped with her own quality PA equipment, Hayley will keep guests entertained whatever the occasion. Hayley's vast repertoire is a hit with all ages and can be tailored to each audience or event.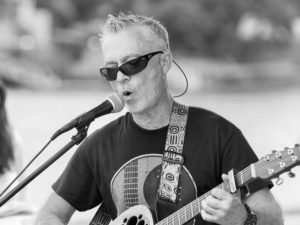 Indigo Dusk
Folk, Acoustic, Pop, Blues, Country
Indigo Dusk is a solo covers performer, playing classic hits from the Sixties, Seventies and beyond!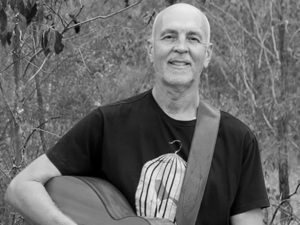 Jay Turner has toured internationally (UK, NZ, Canada, Australia, Europe) as a solo artist and in duo Mundy-Turner. He has 4 solo albums of original material and a further 6 with Catherine Mundy. He is the author and composer of 'Billy Buckett – A Rock'n'Roll Love Story', which played a season at Logan Entertainment Centre in May 2018.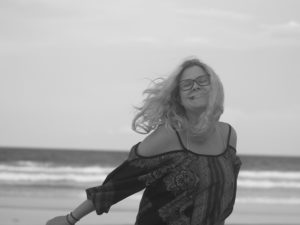 JaydeCBF
Folk, Acoustic, Pop, Contemporary, Alternative
JaydeCBF is an 18 year old vocalist, ukulele and keys player from Loganlea. Jayde studied a Diploma in Music Industry in 2018, and loves to perform and create music.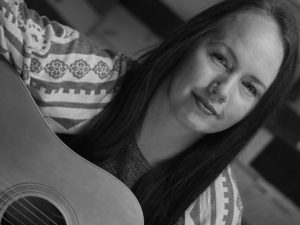 Jaymee-Lee
Folk, Acoustic, Pop, Contemporary, Country
Acoustic soloist on guitar and vocals, Jaymee-Lee performs covers and original music at various venues across Logan, Brisbane, the Gold Coast and the Sunshine Coast. Her style is easy-listening with a broad mix of genres, covering a broad spectrum of music from different time periods to please various crowds and age groups.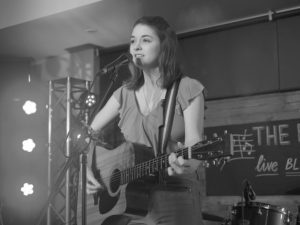 Jess Holbrok is a local country/pop singer-songwriter who has performed at various restaurants and cafés, as well as festivals and shows including the Gold Coast Show. Jess also has a full EP of original songs.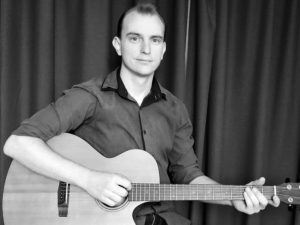 Jesse D
Folk, Acoustic, Rock, Blues
Jesse D has over ten years experience in bands and has recently turned to solo performances, participating in last year's Logan Live and playing a mix of blues, rockabilly, rock and roll and contemporary acoustic tunes for a toe tappin' good time.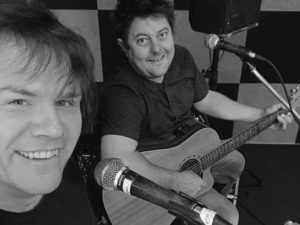 Jezza (Jeremy Sheppard) is lead singer of Chester Trio & Duo – a talented act rocking the suburbs since 2001, performing over 2500 shows in 3 states across Australia. Chester provides an entertaining performance with well-known radio hits, sing-alongs from the 70's, 80's & 90's, and a selection of Top 40 acoustic covers. Jezza is currently working on his debut solo album, which will include performances from musicians Jezza has performed with over the last 20 years.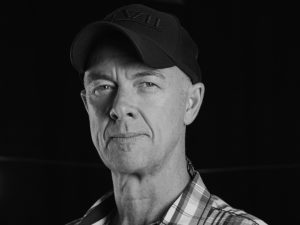 JNR
Folk, Acoustic, Rock, Country
Paul Seils JNR is a singer-songwriter and performer delivering heart-felt Country music that draws from the nostalgia of artists such as John Mellencamp, Steve Earle, Johnny Cash & Merle Haggard. Influenced by early years of growing up in Outback Australia with regular visits to Nashville TN, JNR has performed locally with trailblazers such as Vic Kena, and has written songs with the likes of Graeme Conners and Jared Porter (Tamworth Starmaker Winner 2014).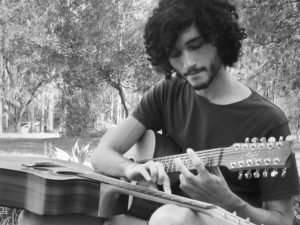 John Butagig
Folk, Acoustic, Instrumental
John Butagig is an experimental solo finger-style guitar player who plays various guitars such as the 6-string, 12-string, Classical, Electric and the Banjo, and sometimes playing them simultaneously! Playing since the age of 10, John has always experimented with new sounds and new unique ways of playing such diverse instruments.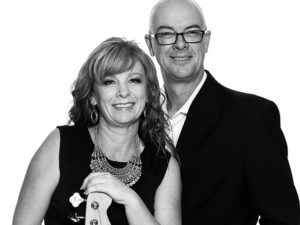 Jules n JNR
Folk, Acoustic, Rock, Country
Brother and sister duo Jules n JNR grew up in and on Country, finding their own unique style and intertwined with broad influences of Folk & Rock fusion.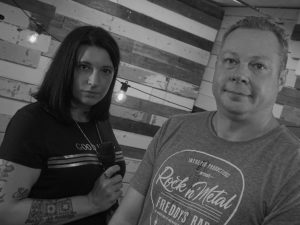 K'n'L Duo
Folk, Acoustic, Rock, Pop, Blues, Contemporary, Instrumental, Country
K'n'L Duo are a husband and wife duo incorporating vocal and guitar skills in rock, country, folk and pop. Khan Sheenan has performed extensively over the last 20 years, appearing in bands like Kill TV, Screaming Jamaican and Dot Com, as well as several cover bands in many locations around Queensland.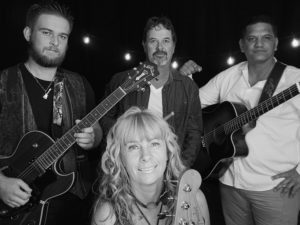 Krazy Horse are a Logan and Beaudesert based 4-piece Country Rock band that draw from influences including Keith Urban, Zac Brown Band, Dixie Chicks, Ed Sheeran and many more. Krazy Horse perform across the Logan, Beaudesert, Scenic Rim and outback remote areas, providing entertainment at rodeos, hotels, weddings and private events.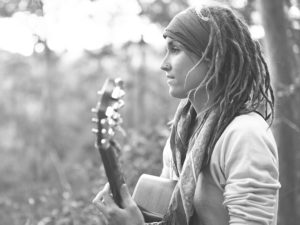 Majelen
Folk, Acoustic, World, Percussive Acoustic Guitar
Logan-based guitarist and singer Majelen is fast becoming one of Queensland's premier new artists. Majelen's percussive guitar style combines a degree in Jazz music with years of backpacking with her signature Maton guitar. Her ground-breaking technical fluency and speed, thought-provoking lyrics, improvised melodies and captivating stage presence continues to inspire audiences around the globe.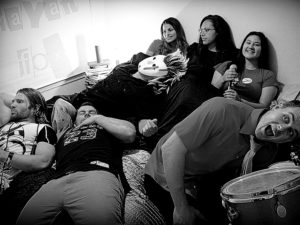 Mayan Fox's music is Exotic Rock, with bouncing grooves, sweet harmonies, hook-heavy melodies, witty lyricism and an abundance of good times which have been shared to audiences around the world from Canada to the Philippines.
Mercury Riot creates what they call their Funk Jazz Rock Fusion genre – a sound that is aggressive yet harmonic, with slight undertones of orchestrated music that snaps, is quick and quiet, loud but soft, and that puts audiences in a hypnotic feeling.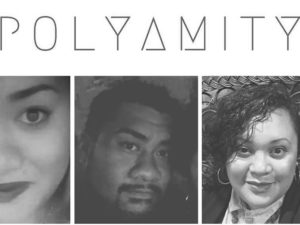 Polyamity
Folk, Acoustic, Reggae, Pop, Hip hop, Blues, Country
Polyamity is a small band of Hawaiian, Samoan, Maori, Cook Island and Polynesian musicians based in Logan, covering music from all genres and performing heartfelt originals. Polyamity share their love for music through simple acoustic sounds and full, soulful harmonies.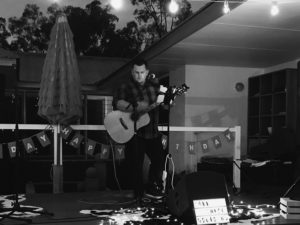 RJ Unplugged is an acoustic solo artist covering music from the 60s to now. A strong vocalist with a chilled, bright, acoustic sound, RJ Unplugged is an engaging performer suitable for a variety of occasions and venues.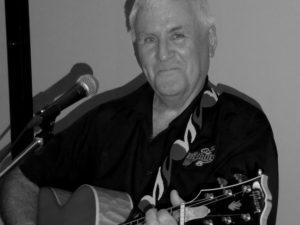 A General Practitioner in Beenleigh for the last 40 years, RocDoc has been regularly performing gigs in Beenleigh for the last decade, with regular gigs covering hits from the 60's and 70's at Sapphire Gardens, Eagleby, and various weddings, parties and other events.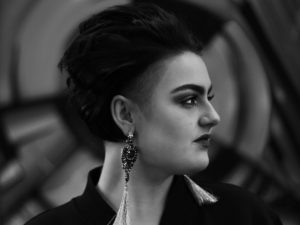 Ruby Jo Music
Folk, Acoustic, Indie, Soul, R&B
Ruby Jo is an aspiring singer/songwriter from Logan, best known for her appearance in the sixth season of The Voice Australia. A prominent member of Team Seal, Ruby received multiple rave reviews. Ruby Jo regularly pushes the boundaries between singing and storytelling. Her songs seamlessly transition from emotionally driven ballads to soulful and optimistic melodies.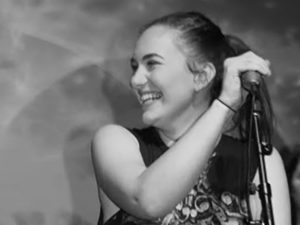 A returning Logan Live artist, Sierra Faith is a singer-songwriter with over 4 years of gigging experience, often performing at weddings, parties and restaurants as a singer and self-accompanying guitarist/pianist.
Sujan Daniel
Folk, Acoustic, Rock, Reggae or roots, Pop, Country
Sujan is an experienced vocalist who has been performing overseas for over 10 years, moving to Logan in 2015. He covers a range of genres from Country to Rock and Pop, performing at various venues around Brisbane. Sujan won the 2016 Best Senior Performer award at the Redlands Modern Country Music Club Festival. Specializing in the pillars of retro music, Sujan makes it irresistible for the crowd to groove and sing along.
The Cosmic Bogan
Folk, Acoustic, Instrumental, Classical
Brad (The Cosmic Bogan) is an Australian born musician, composer and comedian. Brad has a deep interest in connecting with people through live performance. Inspired by social justice, respect for persons, equity, empowerment and Australian culture; Brad actively practices inclusion and values diversity.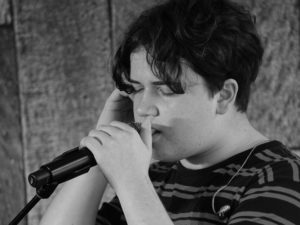 Tokyo Twilight
Electronic, Pop, Contemporary
Tokyo Twilight is an intriguing combination of ambient electronic with tasteful hints of pop and alternative. At only 17 years of age, Tokyo Twilight has played shows with BIGSOUND, Jungle Love Festival, and The Queensland Music Awards; along with receiving recognition by Triple J unearthed and winning a 2019 Queensland Music Award. Tokyo Twilight is on his way to creating a well-crafted and respected name not only in Brisbane, but the Australian music scene.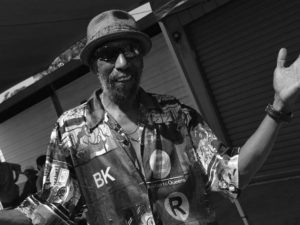 Trix
Electronic, Jazz, Latin Percussion
Latin Percussionist/Drummer/Guitarist Trix has performed with many renowned musicians in stage shows and concerts, assisted in composing leading songs, and has written various songs and jingles for TV ads. Trix has worked with some of the greats including Ricky May, Tommy Emmanuel, Marsha Hines, Tim Finn, Dom Un Romão and many more.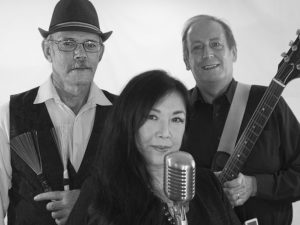 Twist of Blue
Blues, Jazz, Contemporary, Country
Twist of Blue's Lucia has performed as a jazz vocalist in Asia, Europe and Australia. As a resident of Logan, she continues to delight audiences with a repertoire that includes blues, country and contemporary hits. The duo sessions include Gary, who has listeners tapping along to his selection of country favourites.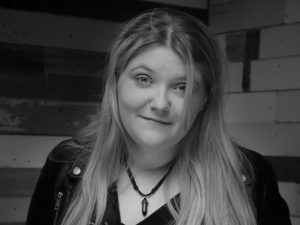 Zoe Nixon
Folk, Acoustic, Contemporary
Zoe Nixon has been singing as her passion for her entire life. Most inspired by jazz, R&B and pop, Zoe enjoys performing a very calm, acoustic vibe with originals influenced by these genres.
2018 Logan Live Artists
R&B, Pop, Top 40, Motown, Soul, Pub Rock & Funk
Arthur is a Brisbane based artist, and a recent contestant on The Voice Australia 2017. He is a full time musician pursuing his dream to become a recording artist one day. Arthur performs as a Soloist, Duo or Trio (with his band ENCORE).
Folk, Acoustic, Pop, Contemporary
Bam Duo is a female fronted acoustic duo that offer a complete professional live music experience to every audience. With experienced well-rounded performers and the very best equipment, Bam Duo are capable of engaging with any size crowd. Bam have performed at pubs, clubs, private functions, corporate functions, weddings, festivals and for local governments. Bam Duo cover music from classics through to modern day hits with a constantly expanding library of covered songs.
BRIANA DINSDALE
Country, Pop
Briana has been performing to live audiences since the age of 8. In the past 6 years she has won many awards including: 2018 Bundy Country Music Festival Overall Junior Champion, 2016 Redcliffe Music Festival Overall Junior Champion, 2016 and 2017 Goodna Jacaranda Quest for Talent Overall Country Winner. Briana also performed with Keith Urban in 2016 at his Brisbane World Tour. Briana has also performed at Logan Eats and Beats and Logan Village Country Music Festival.
BROWN SUGA
Folk or Acoustic
Brown Suga feature the sweet sound of soul. From rhythm and blues, top 40, disco and dance – they are a new and exciting group that will keep you entertained no matter what the occasion.
CAITLIN JADE APRO
Folk or Acoustic
Caitlin Jade Apro is an up and coming young artist with an old soul. She plays a variety of current songs all the way to the 60s with an upbeat and popular vibe.
CALEB CASWELL
Folk or Acoustic
Caleb Caswell is a 17 year old singer-songwriter from South East Queensland who has been performing since he was 12. His music is a blend of heartfelt originals and cover songs from the 60s to present day and features his unique, chilled hybrid of pop and folk with a sprinkle of country, performed with the help of his guitar, ukulele and loop station.
CHRIS AMEDEE
Pop
Chris Amedee is a talented and fun professional musician who has worked in the industry for over 20 years as a singer, guitarist and drummer. Chris works all over SEQ as a solo artist, with his duo The Smith Twins and does freelance work as a drummer.
DANNI JAY
Folk or Acoustic
Danni Jay's music is best described as contemporary country with rock influences. With soaring vocals, smooth keys and a charismatic performance Danni was nominated in 2017 as a Charters Towers Country Music Festival finalist. She has been featured on My Country Australia and also nominated to compete in the Western Ringers Brisbane Ekka Country Music Showdown. Jay is a sure fire crowd pleaser.
DECEMBER BABY
Indie Pop
December Baby is an alternative pop act, drawing from an eclectic range of pop, folk and jazz influences to create unique, piano-driven indie pop.
FOREVER ROAD
Country Rock
Forever Road is a four piece high energy rock/country rock band hailing from Logan. Performing at some of Australia's biggest events like Gympie Muster, Sydney Music Week, Tamworth, Sydney Royal Easter Show and the Ekka, Forever Road 'wow' crowds wherever they play, punching great originals and everyone's favourite covers.
GEORGIE TAYLOR & JAKE COTTER
Folk or Acoustic
Georgie Taylor is an award winning vocalist, singer-songwriter and musician who loves to perform her soulful original songs and acoustic covers. She has recently performed at Byron Bluesfest, Gympie Muster and Tamworth Country Music Festival. Her cousin, 18 year old multi-instrumentalist Jake Cotter joins her to form their dynamic family duo.
HANNAH GRACE
Folk or Acoustic
Hannah is a 19 year old acoustic artist from South East Queensland and travels to numerous restaurants, taverns and venues in Queensland. Her gig set consists of modern and classic songs perfectly fitting for weddings, corporate and private events. I love playing music and enjoy captivating and engaging with audiences. I like mixing and adding my own unique touch to classics from all genres and eras of music.
JAY TURNER
Rock, 50s/60s, Pop
Jay is a singer, songwriter, producer and author, and is well-known for performing internationally either as a solo act or in acoustic duo Mundy-Turner. Recently, Jay has been providing a 'Hits of the 50s & 60s Show' to retirement villages & other venues, playing & singing to often self-produced backing tracks.
JESSE D
Solo Rock, Rockabilly, Rock
Jesse has been playing in rockabilly bands such as Regular Gonzales, ZED28 and The Old 45s for the past eight years. His solo performance mixes 50s and 60s rockabilly, blues and rock n roll. Live guitar and vocals with a pre-recorded backing drums/bass guitar track.
JOEL HOOLIHAN
Pub Classics
Joel is a 31 year old solo guitarist and vocalist. He has lived in Logan his entire life and has been in numerous bands playing a range of punk/heavy rock/metal music. Joel loves writing and playing as much as possible.
LIVEWIRE SOLO
Rock
Livewire Solo delivers a professional and committed performance with a great selection of songs for the dance floor from the 70s to the new millennium. With a unique sound, quality stage production and big pre-edited backing files, Livewire Solo delivers with energy and passion.
L-JAY
R&B, Soul, Pop, Easy Listening, Background
A City of Logan local singer specialising in R&B/pop music. L-Jay currently performs at least 2-3 times a week in various venues including Brisbane.
LOST HIGHWAY
Country, Classic Covers
A newly formed country/classic covers group with experienced local musicians. Lost Highway cover songs from Slim Dusty to the Foo Fighters. Instruments played include guitar, bass, percussionist, lead guitar and banjo.
MATTHEW SELLWOOD
Folk or Acoustic
Matthew Sellwood is an acoustic artist currently playing around the local pub and club scene and is available for parties or acoustic gigs. He plays a mixture of originals and classic pub covers.
MERCURY RIOT BAND
Funk Rock Fusion
Mercury Riot Band plays a Funk Jazz Rock Fusion genre – a sound that is bold yet harmonic, with slight undertones of orchestrated music. They play original music which is their passion.
POLYAMITY
Folk or Acoustic
A small band of Hawaiian, Samoan, Maori, Cook Island and Polynesian musicians based in Logan covering sounds from all genres with deep, soulful originals. Their mission is to inspire and share feel good sounds with people from all walks of life.
ROXBURY
Folk or Acoustic
Folk, acoustic duo covering songs from the 70s to current hits.
RUBY JO MUSIC
Indie, Soul, R&B
Ruby Jo, as seen on Season 6 of The Voice Australia, is an aspiring singer/songwriter from Logan. Her unique sound is influenced by indie, soul, and rhythm and blues artists such as Joss Stone and Lauryn Hill. With a unique tone, Ruby Jo regularly gigs and partakes in corporate events.
SCOTT DOUGLAS
Country
Logan/Tamborine country singer-songwriter Scott Douglas has performed at numerous Australian Country Music Festivals and released his self-titled debut EP late 2017. Scott Douglas' unique deep country voice and brand new album have been embraced by country radio and listeners not only here in Australia, but across the globe.
SIERRA FAITH
Acoustic, Pop
Sierra is a 17 year old singer/songwriter from South East Queensland. She has been gigging and performing for four years. She has a versatile repertoire for events and functions.
SELA MAHE
Various
Sela Mahe is a New Zealand born vocalist who started singing in the church choir. Now a seasoned vocalist, Sela has a voice enriched with soul and power, skilled with the ability to sing long and complex melismas. She mesmerises audiences bringing life and energy to the stage.
SMITH TWINS
Pop
The Smith Twins are a Logan/Brisbane-based duo consisting of Chris Amedee (vocals/guitar) and Jaqui Faulkner (drums/vocals). Chris and Jaqui have been performing together for almost three years all around SEQ. Chris and Jaqui also work extensively as solo artists. They are professional, skilled and entertaining.
TWIST OF BLUE
Blues, Jazz
Twist of Blue (aka Lucia McConnell) is a jazz/blues performer who has performed a number of times at the Logan Music festivals and the Logan Art Gallery. Lucia sings accompanied by her ukelele and backing tracks.